Typical home decor is just not my style. The nerdier the better in my opinion. I like a lot of vintage as well. A house I live in is never going to make any sense. lol But oh well. I like what I like. Since my computer has decided that it doesn't want me playing any video games at the moment, I have been looking for stuff I think would make for epic house decor.
I think zombies are awesome. Obviously.
In the not so distant future, I want a quarter sleeve on my right upper arm -- a zombie graveyard scene complete with dark sky and clouds. But for now, I must settle on other ways to get my zombie fix.
Looking around on
Etsy
I stumbled across this little guy. How fucking cool is that? The
seller
has a few other zombie garden items as well. This one happens to be my favorite though.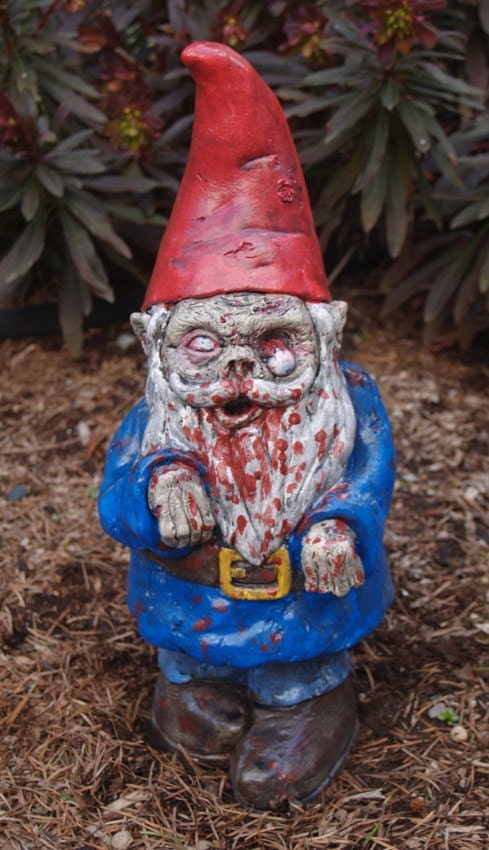 ThinkGeek
has a lot of hella cool items. I spend entirely too much time on that site. Whenever it has its random grab bag t-shirts for 5 bucks I get excited. Although, last time, I only got one cool one. A Rule # 2 Double Tap one from Zombieland.
I want to get
this
for the spawns bathroom but it keeps going out of stock. My whole thought process was that they could learn parts of the periodic table while doin' their business. lawl. Although, I know in reality it isn't going to happen. Who knows though right? My girl spawn is quite the toilet reader like her mama. /shrug.
And these bathroom towels are just uber.
Another thing I really loved from ThinkGeek was the doormat that read "You've read my doormat. That is enough social interaction for one day." But it has since disappeared from the website. :[ There are a few other cool ones on the site, but none as epic as the social interaction one.